Some of us had the privilege to be invited to a new church building dedication in the city of Nakhon Si Thammarat. Full Gospel church of NST also was celebrating 46 years of being a church. It was a wonderful sight to see churches and church leaders from all over the area come and celebrate this occasion. There is a very small population on believers in Thailand and even smaller numbers represented in the South, so it can easily get discouraging to see how small the groups are compared to the whole population. That is why Christians in South Thailand will always take the opportunity to join other believers so they can be mutually encouraged.
We took members of our church to join in the celebration. What blessed me was that you had all churches, no matter the denomination or distance come and join in praise and worship. Bethlehem church is another church in the city that has been there for over 100 years. When their senior pastor spoke during the service, he praised God for Full Gospel sharing in the work of spending the gospel to the community. What a wonderful sample of heaven, when we can all come together and praise our God.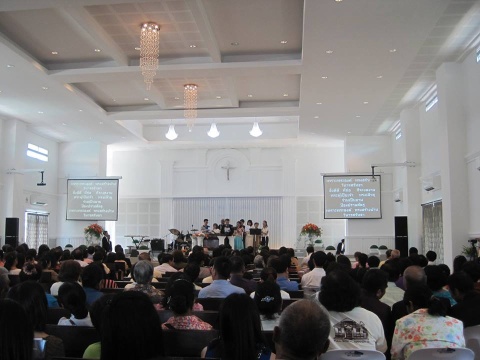 Dedication service of the new NST Full Gospel Church building
Believers from Pak Phanang ACTS Church join in the celebrations.