The OMF South Thailand Region is consists of five teams of OMF and SIM missionaries working together alongside local Christians, churches and other mission groups to realise our vision in planting movements of communities of faith in Jesus Christ.
Jeff & Belinda Callow with Steven & Rowan
Jeff & Belinda joined OMF Thailand in the year 2000, bringing little Nathan (then aged 18 months) with them. After a year in Lopburi doing language study, they moved to Yala in the Deep South to work alongside the Yala ACTS Church and senior missionaries, Liberty Belandres and Cathy Pickard. While in Yala, their second son, Matthew, was born. Rowan came along while they were back in Australia on Home Assignment in 2004. At the start of their second term in 2005, Jeff, Belinda and family moved to Pak Phanang in Nakhon Si Thammarat province and started sharing the gospel there - back then there was no churches at all in the Pak Phanang district. Eventually a church formed, and the new beleivers worked alongside Jeff & Belinda in reaching their relatives and neighbours.
Jeff & Belinda became Regional Leaders of OMF South Thailand region in 2008. They phased out of the church planting work in Pak Phanang in 2013, leaving the church in the hands of local Christian leaders. They moved to a new area called Bang Jak. Since then their role as the Regional Leaders for OMF South Thailand has taken up more and more of their time. Steven joined them in 2015 - then a three year old Thai boy that they adopted in 2017.
Along the way, Belinda has become more and more involved in prayer counselling ministry. Jeff started running adventure camps in 2012 as a way to help Thai kids grow in confidence. Belinda enjoys good coffee, baking and good company - though not necessarily in that orrder. Jeff enjoys cycling, reading sci-fi novels and outdoor adventure activities.


Bruce & Trish Bartleet with Caleb, Joel and Keziah
Bruce and Trish grew up in Johannesburg, South Africa. They met while both working as associate staff members for YFC. They were married in 1998. Bruce worked as a minister in the Presbyterian Church and Trish worked as a Primary school teacher.
They moved to Cape Town in 2002 and Caleb and Joel were born there. In 2007 they went on a short term mission trip to Thailand and first felt God calling them to minister in Thailand. Part of this journey involved them moving to Australia in 2008 for 7 years where Bruce worked as a minister in the Uniting Church for 5years followed by working for OMF Australia for 2 years as overseer of the work of OMF in Queensland. They feel this has been a time where God prepared them for living in Thailand as they had to adjust to living in a country town, within a culture that appeared similar but was different in many ways to what they grew up with. Keziah was born in Australia and completed their family.
They moved to Maila ไม้หลา 19 km west of the city Nakhon Si Thammarat in December 2015. The area has a Christian population of 0.2%, they are working closely with two small churches about 3km from their home as well as trying to plant a new church in Ron Phibun an area 8 km from Maila and currently has no church.
Dave & Lila with Caleb, Caden & Corban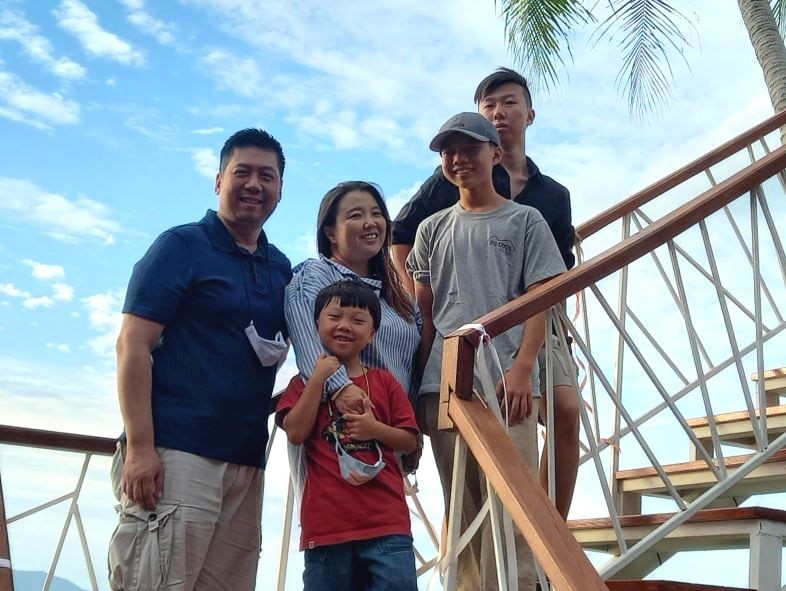 After working seven years as a civil engineer, Dave attended and graduated from Trinity Evangelical Divinity School in December 2009 with a Master of Divinity and briefly joined the pastoral staff of New Covenant Fellowship Church, their home church in Maryland. With a Master in Education Curriculum and Instruction, Lila was a teacher in the public elementary school system for eight years. It was through a combination of examining their life history, reading God's Word, praying, the Spirit's prompting, attending Perspectives on World Missions course together, and seeking the counsel of others in church that confirmed their calling towards the mission field.
Dave and Lila Chang are currently serving as full-time missionaries with OMF having completed their first term of 4 years church-planting in South Thailand. They were involved with language and culture studies, relational evangelism, English teaching outreach, as part of a church planting team. Recently they started a new team reaching out to university students at one of the universities in Nakhon Si Thammarat province.
They have 3 boys – Caleb, Caden, and Corban – the youngest of whom was born in Nakhon Si Thammarat.
Steve & Pikulkaewkarn "Angel" McCallum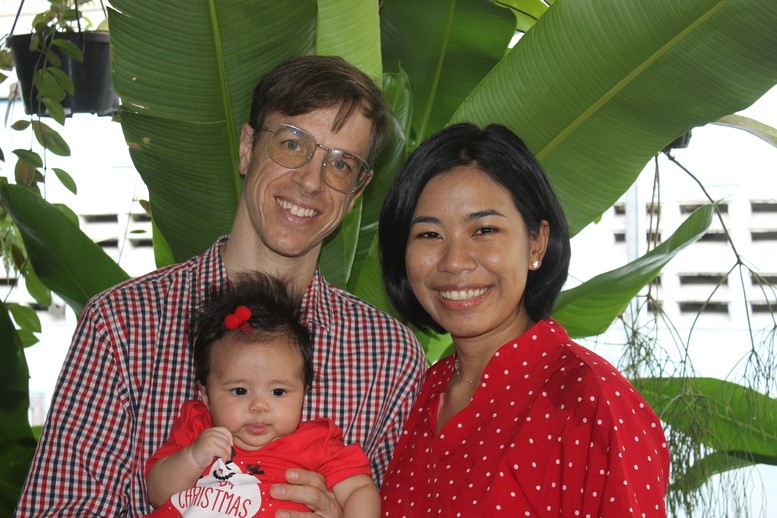 Steve is from the city of Vancouver in the beautiful wet west coast of Canada, though he has lived a variety of places across Canada, from Aboriginal communities to Toronto, Canada's big city. He has been interested in missions since coming to faith at the age of 17 but wasn't sure where or how to serve. 12 years later, after Bible school, doing his B.Sc in Biology and working in gardening landscaping for a few years, he sensed a call to Thailand in March of 2011. After exploring this call with a series of short-terms over the next three years, he has been serving full-time in Thailand since November, 2015. After full-time language study, he has been in South Thailand since August 2016, serving with Dave and Lila Chang in a new church planting location, in the district of Phrom Khiri in the province of Nakhon Si Thammarat.
Angel grew up in Pattani in South Thailand's border region. She came to faith in Jesus when she was 12 through her Christian mother. She was part of the youth group at her church, Pattani Grace Church, and eventually was part of the ACTS youth committee, organising youth camps, activities and visitations for the ACTS youth throughout South Thailand.
Angel finished grade 12 at Dechapattanayanukul School, Pattani, then continued her studies at Silapakorn University at Nakhon Pathom, graduating with a Bachelor of Technology with a major in Engineering Business. While at university, she was an active member of the Cru ministry on campus. Having finished her degree, she decided to serve the Lord full-time before commencing work in the secular workforce. She has been working alongside missionary church-planting teams as an evangelist since August 2016. She is greatly appreciated by all the missionaries and local believers she comes in contact with.
Romance bloomed between Angel and Steve towards the end of 2016. They were married on 18 August 2018. Now they will work together reaching out to the people of Phrom Khiri district and starting a church there.
Sabina & Simon Akert with Eliana Joy (4) and Alina Grace (2)
The Akerts have moved to Nakhon Si Thammarat in the middle of July 2019. They live and work in the northern district called Pak Phun which has about 40'000+ people and no official church yet.
Simon has a passion for football and would love to see this beautiful game being used by the churches to reach the South with the Good News.
Sabina is a trained midwife and after having worked for three years on her job she quit her job in order to become a spiritual midwife. So she went to study a BA in Christian Education at the Theological Seminary St. Chrischona in Basel, Switzerland. That's where she met Simon who started his studies (BATh) at the same time. After the five years of studying Simon was the leader of a christian youth center for two years.
Before they met, (when Simon did not have to shave yet) Simon has spent one year in Bangkok as a Serve Asia and then four years in Central Thailand. First studying 10 months in Lopburi and then serving three years+ in Nakhon Sawan. There he was involved with a church planting team and helping out with the annual Sattha Soccer Tour as well as using football as a means to reach out.
Lee-anne Hill
Lee-anne joined the South Thailan
d region in Aug 2019 and is working with the Bartleets in the rural town Mai La. We are working sharing the gospel in this unreached area. Lee-anne first arrived in Thailand to serve with OMF in 2005. She has served as a university lecturer involved in student work, church planter, Thailand Field Finance and Administration Manager and Database Team Leader (Singapore).
Lee-anne is a New Zealander with a love of cooking, creation care and culture. She is enjoying the opportunity to learn about the Southern Thai culture and cooking with fresh produce in her area. Lee-anne's degree is in Environmental Engineering and she is looking for ways to include creation care in her church planting ministry.

Bruno & Ana Cecilia Granja Villa Nova with Josué and Raquel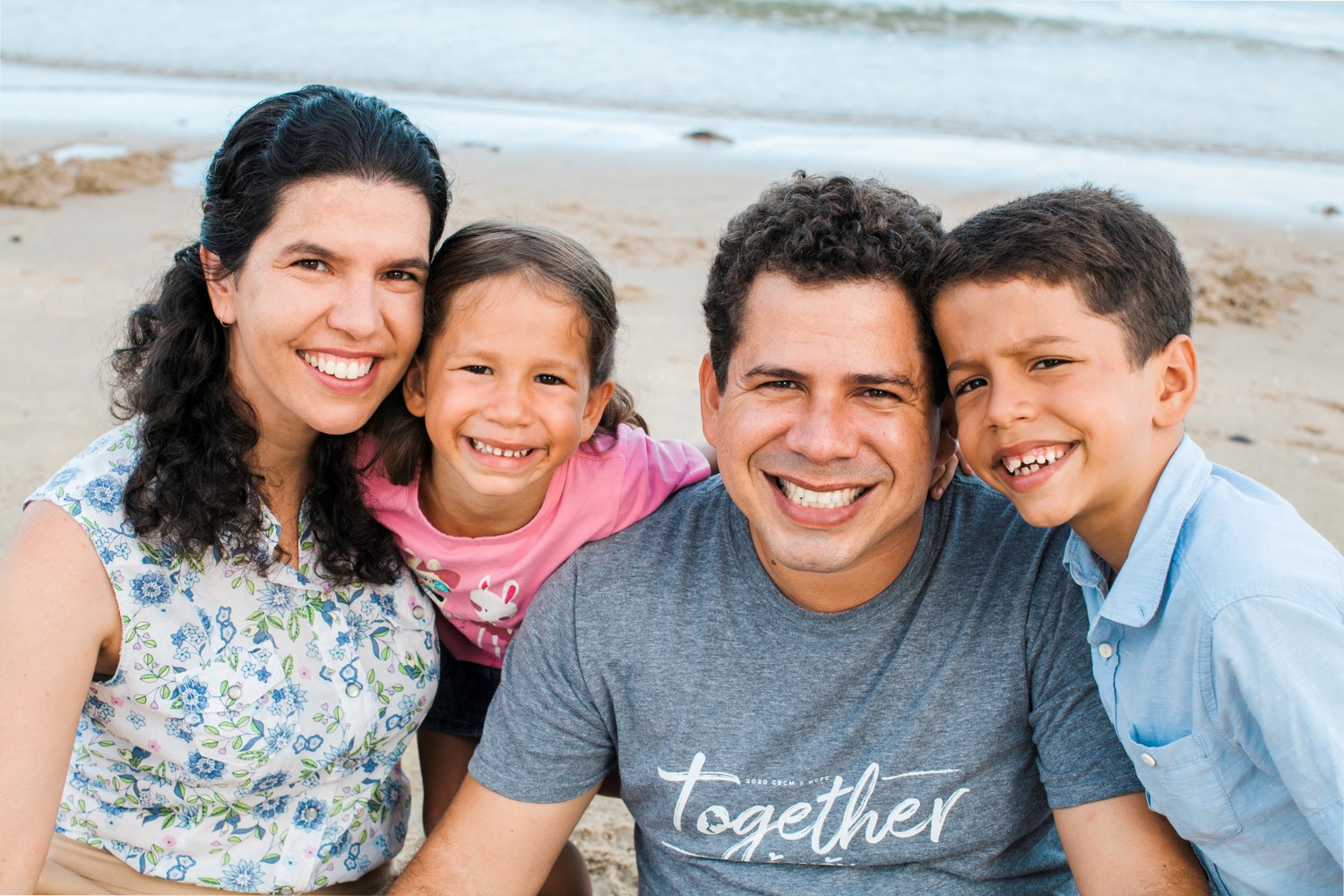 Members of the Baptist Church in Jardim Colonial – São Paulo, Bruno and Ana have been sent to serve in Thailand as missionaries. Bruno is a pastor, trained in theology, physical education and as a football coach. Ana studied theology and social work. They have two kids, Josué and Raquel.
They want to be used for the glory of God in Thailand by making disciples of Christ through football, assisting in local church planting, empowering and strengthening local church leadership so that they themselves produce disciples.
Details

Category: General Info
Hits: 3438